Video Encyclopedia of Pool Shots DVD Series
$ 134.00 $ 170.00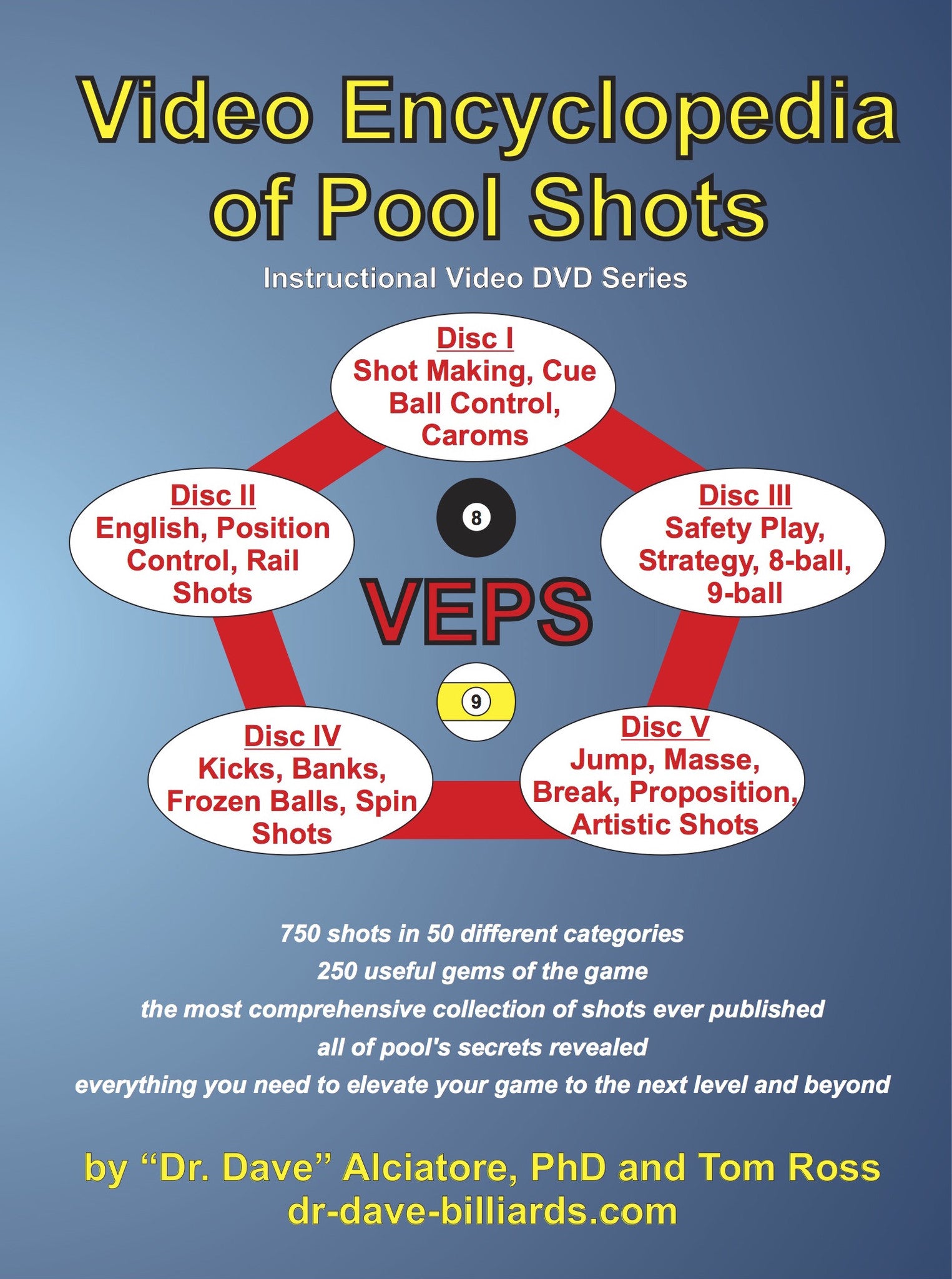 Do you want to learn every type of shot possible in pool & billiards?
Watch Dr. Dave and Tom Ross show you the details on 750 different types of shots and 250 "gems of pool" in the Video Encyclopedia of Pool Shots (VEPS). This 5-DVD video series contains the most comprehensive set of shots of any instructional video series in the world.
With VEPS you will learn:
Basic Shot Making and Positioning
Spin/English and Cue Ball Control
Defense, Safety Play, and Strategy
Banks, Kicks, and Advanced Shots
Jump, Massé, the Break, and Other Specialty Shots
Each shot has details on how to shoot the shot, plus other related instructional tips. DVD case included.
DVD I - Basic Shot Making and Position
cut shots
stun shots
follow shots
draw shots
CB direction control
CB speed control
avoiding a scratch
combination shots
carom (OB kiss) shots
billiard (CB kiss) shots
DVD II - English and Position Control
English (sidespin) basics
English effects and aim correction
rail cut shots
CB path control
basic position play shots
advanced position play shots
center-of-table position shots
straight-in position play shots
OB-hanger CB path control
multiple-rail position play shots
DVD III - Safety Play and Strategy
defensive safety shots
offensive safety shots
safety replies
ball-in-hand options
general strategy
8-ball strategy
9-ball strategy
rail-first shots
clearance and cluster break-out shots
DVD IV - Banks, Kicks, and Advanced Shots
bank and kick shot generalities
one-rail kick shots
multiple-rail kick shots
bank shots
frozen-ball shots
frozen-rail shots
ticky shots
double kiss shots
kiss-back shots
throw shots
spin-transfer shots
DVD V - Skill and Specialty Shots
power shots
jump shots
masse shots
break shots
cushion and point compression shots
pocket point and wall shots
game runout examples discussing principles and strategies used
fouls
proposition and "cute" shots
famous trick shots ("Top Ten")